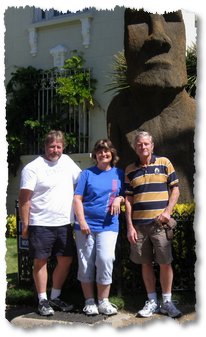 In my previous blog post, I had been traveling around the South Island of New Zealand. After arriving back in Auckland I met up with Geoff and Christine, two Australian friends that I have been to all parts of the globe with. We first met on a month-long trip to Antarctica in 2010 and have stayed in touch ever since. Meeting again on a trip to the other end of the globe, the North Pole in 2012. We were together again at a wedding in Ecuador at the Equator a few years later for a couple we met on the North Pole trip. It is that series of trips that have brought me to New Zealand and Australia at this time. Well that, and the fact that I had a five-month hole in my schedule due to the canceling of a Caribbean voyage with Picton Castle. Most of the people that we stayed with on the North Island are family members of Jay, the groom from that equatorial wedding.
Geoff and Christine arrived at John and Patrick's house on Tuesday, March 14th. We quickly hatched a plan to see things on the North Island that would be mostly new and/or different for the three of us. On Thursday morning we hit the road, taking our time heading southeast, to the Pacific Coast. First to the town of Waihi then on to Tauranga and finally to Whakatane (pronounced  'fɑːkəˈtɑːni') where we were spent two nights. On Friday, the weather was spectacular, as it had been for the past week or so, but also with exceptionally calm winds. This was perfect since we had reservations on a six-hour boat trip to the active volcano, White Island.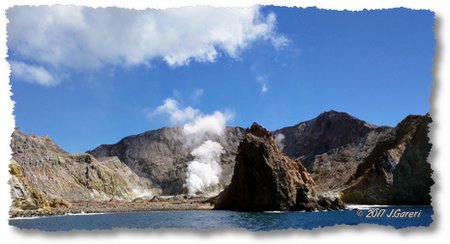 The trip to White Island was beyond my wildest expectations. The boat ride took approximately ninety minutes, which was a bit longer than normal because we saw a pod of dolphins along the way. Seeing and being with dolphins as they jump in the bow waves of a boat, never gets old. Upon arriving at the island, we were each given a hard hat, which we to wear for the entire time on shore. We were also each given a gas mask,  which is what everyone called it. What it really was, was a respirator like you would use when painting with or handling nasty chemicals. These we did not have to wear unless we needed them. Most people, myself included, used it at one point or another on ninety-minute tour. We were lead in groups of about twenty people along a path and learned about the geography, geology, current research projects, and the history of the island. We held blocks of sulfur which was once mined from the island not too long ago. We got up close to volcanic vents and the actual crater. Not much climbing was involved. As you can see from the picture above, one edge of the cone collapsed thousands of years ago. This makes it possible to walk into the center of the crater from the beach. We tasted a bit of the warm water, which early miners actually cooked with and occasionally had to drink to survive. It was a stunningly beautiful day to be there. We really timed it perfectly, which was sheer luck. On the boat ride back to Whakatane we came across three Orca and watched them for quite a while. That was an added bonus as they had not seen any Orca for several months on these daily trips.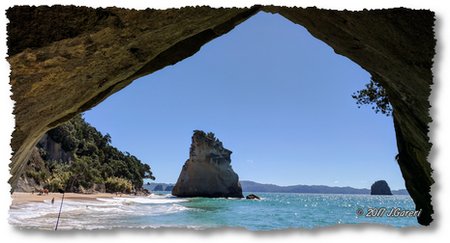 The following day, we traveled north along the pacific coast to the Coromandel Peninsula and continued to the small town of Matarangi on the Pacific side of the peninsula. We spent two night at a house on the golf course. We meet Dennis, the husband of a friend Geoff and Chris met on a trip last year. Dennis was a really nice host, especially nice since he didn't know any of us and his wife was out of the country. But, since they were friends of hers, they were friends of his. Geoff and I took a day trip to Whitianga and to Cathedral Cove on Sunday while Christine took it easy, doing one of her favorite activities, laundry!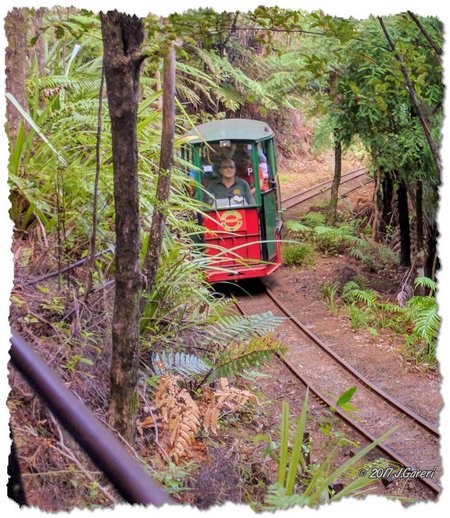 The following day, we traveled across the width of the peninsula to Coromandel Town and took a tour and ride on a unique narrow gauge train, The Driving Creek Railway. A school teacher turned potter named Barry Brickell, built himself a railroad initially as a way to transport clay and firewood for the kilns from his rugged, hillside property to his pottery. The exercise turned into an obsession when he started adding to the tracks just for fun and finally turned it into a tourist attraction. Barry must have been quite a character. He died just over a year ago and is buried on a hill above one of the turns on the track. Over 25 years, he took the small railroad to a length of approximately three km rising to a final height of 165 meters. He did this all by hand, though in his last years he had several helpers. There are several tunnels, switchbacks, bridges and even some loops. He had no formal training in engineering or rail design. He learned things by books and probably a lot of experimenting. Today, the rail trip is one of the top attractions in New Zealand. Certainly something he never dreamed of. Barry was also a very avid environmentalist. He spent his years removing non-native trees from his property, including California Redwood. In their place, he planted the native, though slow-growing indigenous kauri trees. The trees he removed were used in the pottery to fire the kilns or as sleepers for the train tracks or other projects around the property.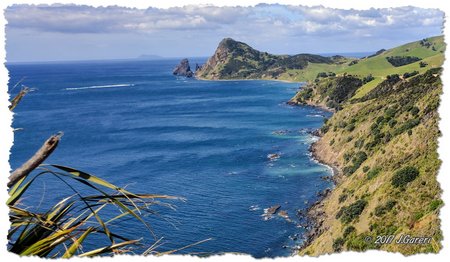 After a fine lunch in town, we drove to the top end of the Coromandel Peninsula. It was quite a long drive on very skinny, twisty turning gravel roads. Fortunately, Geoff loves driving, especially roads like these. I was quite happy to sit in the back seat and try not to look at the side of the car and the seemingly endless drop below. The Kiwi's are good and put guard rails on sections of the road, but there is nothing more that thin pieces of wood supported by fence posts. I think there are there to easily identify where cars go off the cliffs as they would snap very easily, not slowing a car down at all. The following day we traveled to Waihi Beach to spend the night with Alan and Gale at their beautiful beach home. We had a great visit with them and shared many laughs and more than a couple of bottles of beer. Alan cooked a delicious lamb roast, which we all devoured. From there we went to Hamilton for Wednesday night to meet up with life-long friends of Geoff and Christine.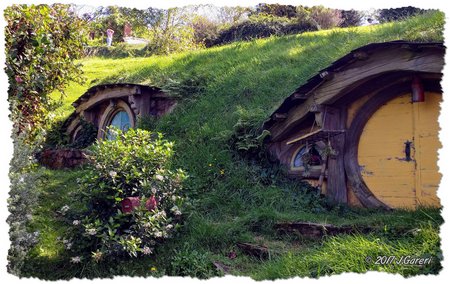 On Thursday, after a leisurely breakfast, I was dropped off at Hobbiton, to take the tour there. Geoff and Chris had done the tour a week or so earlier. It was nice of then to entertain themselves while I did the two-hour tour. Hobbiton is the location of the movie set used in the Lord of the Rings Trilogy and The Hobbit movies. The original set was removed at the end of shooting the Lord of the Rings movies and then re-built in its current, permanent format for The Hobbit. The original set was built of cheap materials, not intended to last very long. Once the farmer who owned the land realized what he and his family had, they asked that the new set for The Hobbit be built out of long-lasting materials. The tour was pretty good, being on the site and the set was very cool. I think that the price of $79 NZD for an adult is a bit excessive. But, it is currently the number one tourist attraction in New Zealand, selling out all their tours with an average of 5,000 people visiting a day! That night, we spent the evening at Terri and Scott's farm-house in Ngatea. We feasted on fresh smoked fish, steaks and sausage from their cattle and several wonderful salads. Clearly, we were being too well fed at these friend's homes.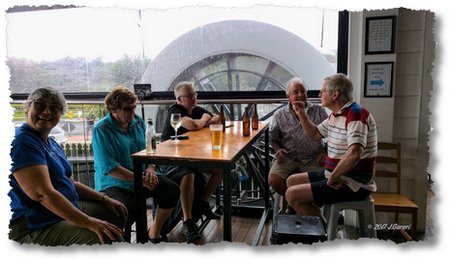 For the final weekend in New Zealand, we returned to Clarke's Beach to stay with Barry and Carol. Patrick and John drove from Auckland for the weekend as well. We spent days exploring the area, including a lovely drive to Manukau Heads on the Awhitu Peninsula which creates the entrance for one of Auckland's two harbors. Incidentally, Auckland is one of the few cities with harbors on two coasts and two different bodies of water. The views from the lighthouse were stunning. It was a bit overcast and even rained on us a little. It seems that my run of perfect weather might be coming to an end in New Zealand. We ate, drank, talked and laughed a lot over the weekend. Barry and Carol, like everyone in New Zealand, were marvelous hosts. It was a great ending of my visits to the fabulous country of New Zealand. From Clarks Beach, I went to Auckland to stay with John and Patrick for a couple of night before my adventures would continue in Australia. Christine and Geoff headed north to check out the Bay of Islands because their flight to Australia was a few days after mine.
Click on my feet to see pictures from these weeks in New Zealand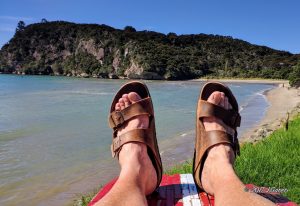 Australia Adventures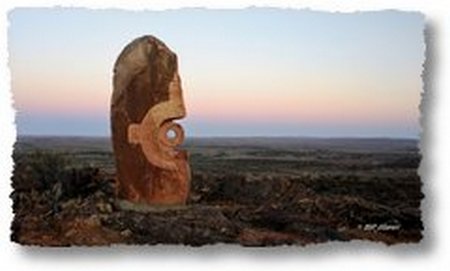 On Wednesday, March 29, I flew to Sydney, Australia to take one of the world's amazing overland train journeys, The Indian Pacific. The four-day trip travels along the south of Australia connecting the Pacific Ocean on the east with the Indian Ocean on the west. It is the connection of these oceans where the train derives its name. The journey left from the Sydney Central train station on Wednesday from three tracks since the entire train is longer than the station platforms. We traveled through the beautiful blue mountains of New South Wales then into the arid mining area. We stopped early in the morning at Broken Hill, home of the Barrier Range and the world's richest deposits of lead-zinc ore. Most everyone got off the train here for various sunrise-themed excursions. I went with the group to an area on a nearby hill that contains several stone sculptures known as the Living Desert Reserve. It was a great place for the sunrise and to get a nice view of the surrounding area. Along the route, the bus driver told us about the town and its rich mining history.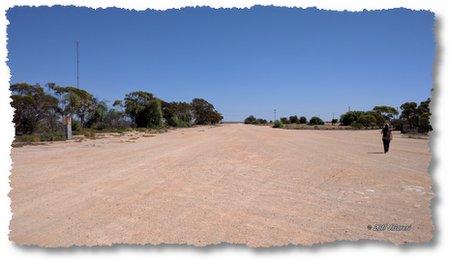 Shortly after Broken Hill, we crossed into South Australia which was my sixth and final mainland Australian state or territory to visit. Although technically Tasmania is an island, it is still considered part of mainland Australia since it is a federated state, I guess. When we got to the coast, the train took a left and followed the coastline south to the capital of South Australia, Adelaide. This is where the Indian Pacific and Great Southern Rail have their main offices and where we also did a crew change. Everyone got off the train here and went on various excursions. I joined the group that did a city walk followed by a visit to the National Wine Centre at The University of Adelaide where we sampled many Australian wines and had a fabulous dinner. The train resumed our westward journey leaving Adelaide. By morning we had arrived at the beginning of the Nullarbor Plain, it would take us nearly all day to cross this area. The Nullarbor, among other things, features the world's longest stretch of straight railroad track at 530km (330 miles). There are an amazing amount of things to see here. It's hard to imagine that a huge area like this could be a highlight of the train journey, but it really was. We stopped around mid-day at a town called Cook. It's practically a ghost town now with only four residents but in days gone by had as many as two hundred. It had a hospital, swimming pool, golf course, school, and various shops. We stopped here to have a look and so the crew could fill up the train's water tanks. Later, around sunset, the train stopped again for a trackside lamb feast. This was at Rawlinna, near the 2.5 million acres Rawlinna Station home to over 70,000 sheep making it the largest sheep station in Western Australia. From there it was across the remaining width of Western Australia to Perth where Geoff was at the train station waiting for me. Geoff and Christine had arrived in Perth the day before from Auckland.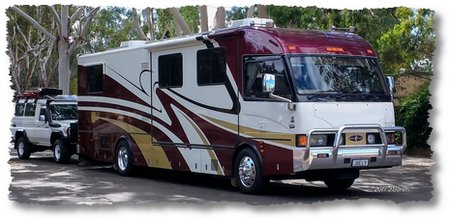 Over dinner, we discussed and created a plan for the next couple of weeks. For the next few days, we did laundry and I did a bit of exploring around Freemantle, Perth and Rottnest Island.  We then loaded up the motor home and troopie for a road trip to the mining and gold fields to the north and east of Perth. We traveled first to a town called Mount Magnet, which sounds like it should be a magnetic mountain, but it's not that at all. It is one of the region's original gold mining towns, and the longest surviving gold mining settlement in Western Australia. The name Mount Magnet came from a hill in the area that, in 1854, caused problems with the original surveyor's compass. From there we headed east to the little town of Sandstone where we spent a night and talked quite a lot to groups folks who come from all over Australia to do modern gold prospecting with high-powered metal detectors. I think gold prospecting is a lot like fishing. The stories are many and the actual results are always smaller than the stories told. We continued traveling west to Leinster another mining town with not much going on then south to Leonora and a detour west to Laverton where we spent a night. Laverton is the town where Geoff's grandmother lived years ago. Is is also the start (or end) of the Outback Way which is a network of tracks that connect Western Australia to Queensland in the North East of the country. Essentially, it is a shortcut across the continent of Australia. They have a nice museum of sorts in Laverton, "The Great Beyond Explorers Hall of Fame" that we visited in the morning. It was pretty cool explaining and showing how this rugged country was explored.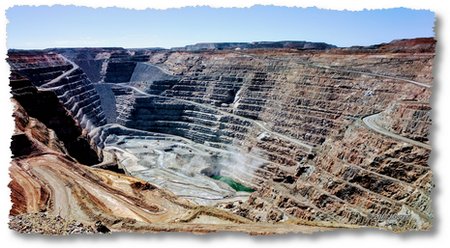 From Laverton, we backtracked to Leonora and then south to the mining ghost town of Gwalia. We visited the Son's of Gwalia mining museum and Hoover House named after former President of the United States, Herbert Hoover who was a geologist at the mine in 1897. We then continued south to the small town of Menzies where we spent the night. Before dinner, Geoff and I took the troopie to Lake Ballard to check out the salt lake and the 51 strange, metal statues called "Inside Australia". We continued following the Goldfields Highway south to the twin cities of Kalgoorlie-Boulder. This is the true capital of the goldfields and the home of what was, until recently, the largest open-pit gold mine in the world, dubbed "Super Pit". We spent two night here doing a day trip with the troopie to Coolgardie a town that is now nearly a ghost town but, in 1898, was the third largest town in Western Australia due, of course to a lot of gold being found nearby. Coolgardie also has the most incredible collection of objects and history inside the Coolgardie Visitor's Center located at the former courthouse. We were blown away with the sheer number of things in there and how it was all painstakingly organized. The following day, now the 13th of April, we continued south to the coastal town of Esperance where we spent another two nights. It was great to be out of the desert and back to the beautiful sea and surf of the Southern Ocean.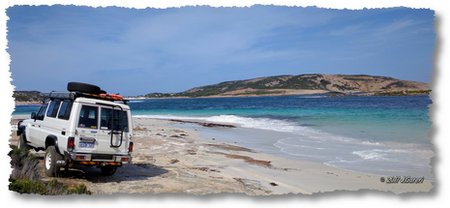 We spent the full day exploring the coastline and beaches that make this area famous. It was Good Friday and we were pleasantly surprised to find a fish market open near town. We picked up some really fresh fish to grill up for supper, which was awesome. The beaches and sand dunes were also quite awesome. The rugged, granite lined coast reminded me a lot of the shoreline of Maine and Nova Scotia. From here we made our way northwest back to Perth stopping for a night near Hyden and a formation called Wave Rock. The following day, Easter Sunday, we arrived back in Freemantle to Geoff and Christine's house. Anyone who knows me knows how much I like doing road trips. They are especially wonderful with friends who live in the area and know all the right things to do and sometimes they even do things that are new to them. Geoff and Chris are incredible hosts. They used to own a long distance trucking company, so Geoff is very much at home doing long road trips. Their motor home is incredibly comfortable and they keep it like brand new. No one could ever guess that it is fourteen years old. Geoff is always making improvements and modifications, and he is really good at it. It was such a treat seeing more of their corner of Australia with them. But, alas, it was time to go with commitments and sailing calling me back home.
Geoff has informed me that "we covered 4500kms in the Motorhome and a further 1000kms in the Troopie". I do love road trips and he does love driving. I would call that a winning combination! Click the links below to see all my pictures.
Until next time… Thanks for reading,
-john
Click on the train to see pictures from The Indian Pacific, Freemantle and Perth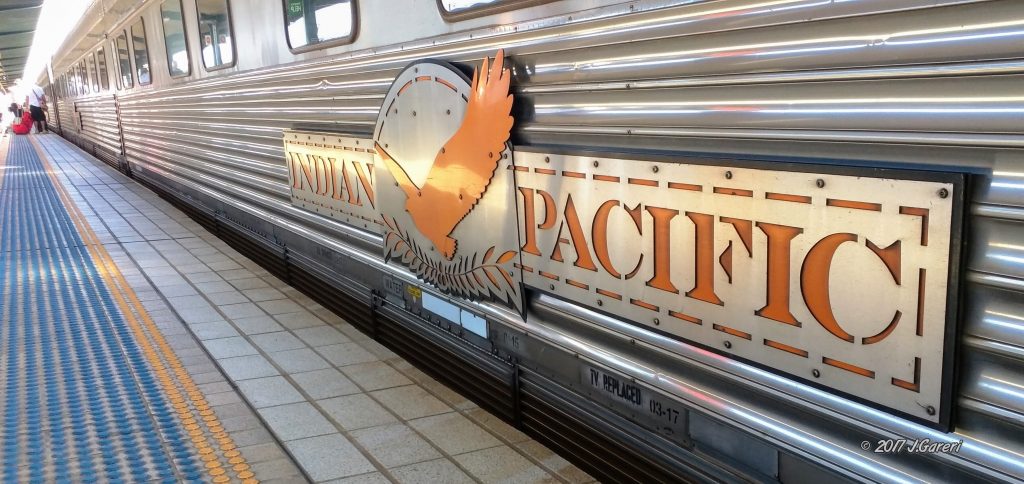 Click on their dog, Prozack, to see pictures from the WA Road Trip